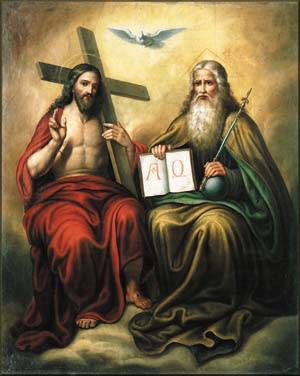 "For good is attributed to God, as was said in the preceding article, inasmuch as all desired perfections flow from Him as from the first cause." - Saint Thomas Aquinas, Summa Theologiae, Iaq.6a.2
How many times have you heard people say that they would not want to be in heaven if certain of their friends and loved ones were not there with them to enjoy the perfect bliss and happiness of God's presence? Indeed, are we not all a bit uneasy with the fact that those whom we love so dearly and tenderly on this earth may not enjoy the rewards of eternity with God?
These are all very legitimate concerns and the desire to be with our loved ones in heaven should spur us on to two things: greater sanctity in our life so that the fire of charity burning in our soul may lead others to union with God and, secondly, a greater courage to speak the truth in love. We must speak the truth to those who find themselves in dangerous situations vis-à-vis their salvation. E.g. Catholics who do not believe that Jesus Christ is truly, really and substantially present in the Most Holy Eucharist, Catholics who are sexually active with anyone except their spouse, Catholics who support practices such as abortion, contraception and euthanasia, etc... We need to speak with great clarity, truthfulness while being humble and gentle with the weaknesses of our brothers and sisters.
"Always be prepared to make a defense to any one who calls you to account for the hope that is in you, yet do it with gentleness and reverence." (1Pe 3:15)
The quotation from Saint Thomas Aquinas, quoted above, is important for the two issues just mentioned. It pertains to the desire for loved ones to be with us in heaven because we understand that the goodness we experience in them is a foretaste of the goodness of God Himself, who is the supreme Good.
Saint Thomas' teaching pertains to the second topic in particular, which is our need to be better examples of Christ's love by holiness of life and the need to speak the truth in love to our neighbor. If we truly love someone, then we will desire that which is their highest and best good so that they can be most fully happy. Our neighbor's supreme good is their relationship with God in Jesus Christ through the power of the Holy Spirit by means of the one, holy, catholic and apostolic Church which Jesus Christ founded and which continues to exist, one and the same, in the Catholic Church, guided by the Bishop of Rome and the Bishops in union with him.
God is the supreme Good and therefore we should spend our best efforts at fostering our own and others relationship with God alone by lives of charity in our deeds and truth in our words.